The Flying Scotsman is coming to the North Yorkshire Moors Railway in 2016!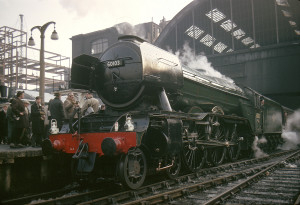 The world's most famous steam locomotive, the legendary Flying Scotsman, is coming back into service following a £4.2 million overhaul and will be running on the world's busiest heritage railway, the North Yorkshire Moors Railway.
Plans have been unveiled that will see Flying Scotsman on the NYMR for a total of 7 days in March next year. It will be the first opportunity to see and ride behind the finished locomotive on a heritage line following the locomotive's overhaul. Interest from the public is expected to be huge.
There will be three services per date and each return journey will start and finish from Grosmont Station.
Running dates: 12th – 13th & 15th – 20th March 2016.
Grosmont departure times: 09:30, 12:30 or 15:30
Tickets will be available to purchase online from 9am Monday 26th October 2015.
For more information, please visit the North Yorkshire Moors Railway website.